Aplicación de un índice compuesto para el análisis de la actividad científica de las universidades brasileñas
Palavras-chave:
Rankings Universitarios, Índice Compuesto, Indicadores Bibliométricos, Universidades brasileñas, Brasil.
Resumo
El presente trabajo se inserta en la aplicación de indicadores bibliométricos para determinar el posicionamiento de las universidades federales brasileñas en un ranking nacional.  A pesar de numerosas críticas, los rankings internacionales continúan captando la atención de amplios sectores que les reconocen importancia en la evaluación de instituciones de educación superior. Sin embargo, sólo un pequeño grupo de universidades brasileñas aparecen incluidas en los principales rankings internacionales. Partiendo de un modelo desarrollado en el contexto de las universidades de la India, con algunas modificaciones en las variables consideradas, se calculó un índice compuesto que permite determinar el posicionamiento de cualquier universidad brasileña que no aparezca incluida en los rankings internacionales.  Se recopilaron datos sobre la actividad científica en las universidades federales brasileñas a partir de cuatro bases de datos gubernamentales del Brasil y la Colección Principal del Web of Science.  Los resultados muestran una correlación positiva entre el índice compuesto y la variable de visibilidad e impacto incluida en el estudio e igualmente entre el ordenamiento de las universidades utilizando los valores del índice compuesto y el que tienen en el Ranking Folha de Brasil 2017. La aplicación de este indicador demostró que éste puede servir como una alternativa de estimación de posición para cualquier otra universidad o institución brasileña que no esté clasificada en los rankings internacionales.
Referências
BASU, A. et al. Designing a Composite Index for research performance evaluation at the national or regional level: ranking Central Universities in India. Scientometrics, v. 107, n. 3, p. 1171–1193, jun. 2016.
BENSMAN, S. J. Pearson's r and author cocitation analysis: A commentary on the controversy. Journal of the American Society for Information Science and Technology, v. 55, n. 10, p. 935–935, ago. 2004.
ÇAKIR, M. P. et al. A comparative analysis of global and national university ranking systems. Scientometrics, v. 103, n. 3, p. 813–848, jun. 2015.
CALDERÓN, A. I.; LAURENCO, H. D. S. Rankings en la educación superior brasileña: Una aproximación a los rankings públicos y privados. RIDU, v. 8, n. 1, p. 6, 2014.
CWTS BRAZILIAN RESEARCH RANKING. Methodology. 2014. Disponible en: http://brr.cwts.nl/methodology/datacollection. Acceso el 13 oct. 2017.
DE FILIPPO, D; SANZ-CASADO, E; CASANI, F; GARCÍA-ZORITA, C; EFRAÍN-GARCÍA, P. Visibility in international rankings. Strategies for enhancing the competitiveness of Spanish universities. Scientometrics. v. 93, n. 3, p. 949-966, 2012.
DOCAMPO, D. Rankings internacionales y calidad de los sistemas universitarios. Revista de Educación, número extraordinario, p. 149-176, 2008.
EUROPEAN UNIVERSITY ASSOCIATION. (2011). Global university rankings and their impact. Belgium: EUA.
DAVID, S. A.; MOTALA, S. Can BRICS build ivory towers of excellence? Giving new meaning to world-class universities. Research in Comparative and International Education, v. 12, n. 4, p. 512–528, dez. 2017.
EL-HEFNAWY, M. R. M.; EL-BASTAWISSY, A. H.; KADRY, M. A. Towards a Composite Index for Measuring the Higher Education Institutions in Egypt. 2014 Science and Information Conference, p. 31–41, 2014.
FALK, R.; WELL, A. D. Many Faces of the Correlation Coefficient. Journal of Statistics Education, v. 5, 1997.
FILGUEIRAS, C. A. L. Origens da Ciência no Brasil. Química Nova, v. 13, n. 3, p. 222–229, 1990.
GÓMEZ CARIDAD, I.; BORDONS, M. Limitaciones en el uso de los indicadores bibliométricos para la evaluación científica. Política Científica, v. 46, n. 10, 1996.
HICKS, D. Evolving regimes of multi-university research evaluation. Higher Education, v. 57, n. 4, p. 393–404, abr. 2009.
KAO, C. et al. Ranking university libraries: The Taiwan case. Libri, v. 48, n. 4, p. 212–223, dez. 1998.
LETA, J.; GLÄNZEL, W.; THIJS, B. Science in Brazil. Part 2: Sectoral and institutional research profiles. Scientometrics, v. 67, n. 1, p. 87–105, abr. 2006.
LEYVA, S. L.; BAJO, R. A.; MORALES, J. M. B. Universidades de clase mundial e indicadores de competitividad económica de los países. [s.l.] Asociación de Economía de la Educación, 2011. Disponível em: <https://econpapers.repec.org/bookchap/aecieed06/06-26.htm>. Acesso em: 14 mar. 2018.
MOED, H. F. A critical comparative analysis of five world university rankings. Scientometrics, v. 110, n. 2, p. 967–990, fev. 2017.
PAVEL, A.-P. Global University Rankings - A Comparative Analysis. Procedia Economics and Finance, 4th World Conference on Business, Economics and Management (WCBEM-2015). v. 26, p. 54-63, jan. 2015.
PÉREZ ESPARRELLS, M. DEL C.; LÓPEZ GARCÍA, A. M. Los rankings de las instituciones de educación superior: una revisión del panorama internacional. Calidad en la educación, n. 30, p. 327-343, 2009.
PHILIP, G., ALTBACH, P. G., REISBERG, L, & RUMBLEY, L. Trends in global higher education: Tracking an academic revolution. UNESCO 2009 world conference on higher education.
RAUHVARGERS, A. Global university rankings and their impact: report II. Brussels: European University Association, 2013.
SADLAK, J., & LIU, N. C. The world-class university and ranking: Aiming beyond status. Bucharest: UNESCO-CEPES, 2007.
SALMI, J. The Road to Academic Excellence: Lessons of Experience. In: The Road to Academic Excellence. Directions in Development - General. [s.l.] The World Bank, 2011. p. 323–342.
SANZ CASADO, E; DE FILIPPO, D; GARCÍA ZORITA, C; EFRAÍN-GARCÍA, P. Observatorio IUNE: una nueva herramienta para el seguimiento de la actividad investigadora del sistema universitario español. Revista BORDON, v. 63, n. 2, p. 101-115, 2011.
SANZ-CASADO, E; GARCÍA-ZORITA, C.; SERRANO-LÓPEZ, A.E.; EFRAÍN-GARCÍA, P; DE FILIPPO, D. Rankings nacionales elaborados a partir de múltiples indicadores frente a los de índices sintéticos. Revista Española de Documentación Científica, v. 36, n. 3, 2014.
SOUZA, C. D.; DE FILIPPO, D.; SANZ-CASADO, E. ¿De país emergente a protagonista en el ámbito científico-tecnológico? Análisis de la internacionalización de Brasil. In: 21st International Conference on Science and Technology Indicators, Valencia (Espanha). 14-16 Septiembre 2016.
SOUZA VANZ, S. A. O que medem os rankings universitários internacionais? Apontamentos teóricos, indicadores e características. Informação & Sociedade: Estudos, v. 28, n. 2, 28 ago. 2018.
THÉRY, H. Classificações de universidades mundiais, "Xangai" e outras. Estudos Avançados, v. 24, n. 70, p. 185–205, 2010.
VAN RAAN, A. Fatal attraction: Conceptual and methodological problems in the ranking of universities by bibliometrics methods. Scientometrics, v. 62, n. 1, 133–143, 2005.
WALTMAN, L. The Leiden ranking 2011/2012: data collection, indicators and interpretation. Journal of the American Society for Information Science and Technology, v. 63, n. 12, p. 2419-2432, 2012.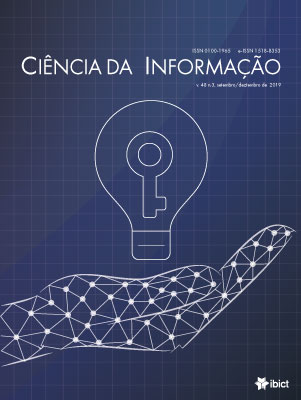 Como Citar
SouzaC. D. de, Suárez-BalseiroC., Maura-SardóM., De FilippoD., & Sanz-CasadoE. (2019). Aplicación de un índice compuesto para el análisis de la actividad científica de las universidades brasileñas. Ciência Da Informação, 48(3). Recuperado de http://revista.ibict.br/ciinf/article/view/4625
Todos os direitos (c) 2019 Cláudia Daniele de Souza, Carlos Suárez-Balseiro, Mariano Maura-Sardó, Daniela De Filippo, Elías Sanz-Casado
This work is licensed under a
Creative Commons Attribution-ShareAlike 4.0 International License
.
A publicação se reserva o direito de efetuar, nos originais, alterações de ordem normativa, ortográfica e gramatical, com vistas a manter o padrão culto da língua, respeitando, porém, o estilo dos autores;
As provas finais não serão enviadas aos autores;
Os originais não serão devolvidos aos autores;
Os autores mantém os direitos totais sobre seus trabalhos publicados na revista Ciência da Informação, ficando sua reimpressão total ou parcial, depósito ou republicação sujeita à indicação de primeira publicação na revista, por meio da licensa CC-By;
Deve ser consignada a fonte de publicação original;
As opiniões emitidas pelos autores dos artigos são de sua exclusiva responsabilidade;
Cada autor receberá dois exemplares da revista, caso esteja disponível no formato impresso.